GENERAL MEETING * Sunday January 15, 2017 * Farmers Training Centre, Twickenham Park, St. Catherine * 12:30 PM
A bright and prosperous 2017 to all!
New items on the Home Page :
Updated December 28, 2016
1) JVMA Fund Raiser - THE WIZ.
2) Jamaican UWI-SVM Student wins WVA/MSD Animal Health Scholarship
3) Prof. Abiodun Adesiyun has retired from the UWI-SVM
4) Disease of the Month: Paraquat (Gramoxone) Poisoning
PLEASE SCROLL DOWN TO READ MORE.
JVMA Fund raiser - THE WIZ - January 21, 2017
Cost per Ticket: $1900. Available from Veterinarians & Veterinary Clinics. E-mail secretary@jvma.org for enquiries
Jamaican UWI veterinary student receives Scholarship award from the World Veterinary Association & MSD Animal Health
Steffony Green

Jamaican veterinary medical student Ms. Steffony Green has been selected by the World Veterinary Association (WVA) and MSD Animal Health to receive of a scholarship of US$5000 to assist with her pursuit of her studies at the University of the West Indies School of Veterinary Medicine, St. Augustine, Trinidad. She is one of eleven recipients from the Latin American region selected from a field of forty-six applicants.

MSD Animal Health and the WVA announced the 2016 scholarship programme in June of this year and this was circulated to Jamaica's veterinary students through the Jamaica Veterinary Medical Association which is a WVA member association. There were three Jamaican applicants. The scholarship awardees were published on December 6, 2016

Ms. Green, who is a second year student and hails from Portmore, St. Catherine, is particularly interested in small ruminant (sheep and goat) medicine. She looks forward to coming home to make her contribution to the health sector and to becoming a JVMA member.

In 2015, through a Cabinet decision, the Ministry of Education ended its 85% subsidy of the tuition for new Jamaican veterinary students at the UWI-SVM, a subsidy that is still maintained for most tertiary students in Jamaica.

Ms. Green was one of the students who, on enrolling in the Doctor of Veterinary Medicine programme in 2015, were caught unaware by the Jamaican Government's decision. Following public reaction in the local media and discussions betweeen the JVMA and the Ministry of Education, a Cabinet decision was taken to continue the subsidy for this last cohort of students through to their graduation. Each student must meet conditions stipulated by the Ministry to maintain his/her individual funding support. The ending of the subsidy went into effect for the 2016-17 academic year. As a result, the study of veterinary medicine at the University of the West Indies may now be out of reach for many prospective Jamaican students.

For Ms. Green, the scholarship award will assist significantly in covering the many costs associated with the DVM programme that are not covered by the subsidy.

Click HERE to see the WVA announcement.




Steffony Green feeds a lamb. She says small ruminants are her favourite.
Professor Abiodun Adesiyun retires from the UWI-SVM
2016 saw the retirement of Professor Abiodun Adesiyun from the University of the West Indies School of Veterinary Medicine, St. Augustine, Trinidad, after 26 years of service to that institution. Originally from Nigeria, he joined the SVM on October 30, 1990 and served as Director from 2006 to 2014.

Throughout his tenure on the SVM faculty, Prof. Adesiyun played a major role in the development of the school from its fledgling state to become the premier veterinary institution that it is today. During his time as Director, he oversaw the first accreditation exercise for the school by the Caribbean Accreditation Authority for Medicine and other Health Professions (CAAM-HP) and played a prominent role in the second in early 2016. The school is now accredited to 2020.

Prof's work in the development of the school, its students and graduates and his outreach to veterinary professionals and associations in the region resulted in him being given a special award for his service to the region, presented at the 2010 Caribbean Veterinary Medical Association Conference held in Jamaica.

A ceremony to mark his retirement from the SVM was held at the school on September 30, 2016. Attended by a host of University and Faculty of Medical Sciences officials, faculty members, staff, and students along with other well-wishers, the event included heartfelt tributes, musical items and a response from Prof. Adesiyun himself.

Prof. Adesiyun developed and maintained a close relationship with the JVMA and, as such, the Association was granted the privilege of sending a video tribute which was played during the event.




Professor Abiodun Adesiyun

Although Prof. Adesiyun has officially retired, he will continue to work with the UWI-SVM for the time being on a contractual basis.

The JVMA salutes Professor Abiodun Adewale Adesiyun and thanks him for his many years of service to the veterinary profession in the Caribbean. We know that his retirement will not mark the end of his work. Wherever he goes, whatever he does, his Caribbean legacy will live on in the many graduates of the UWI-SVM serving in the region and around the world.

For a profile on Prof. Adesiyun please click HERE .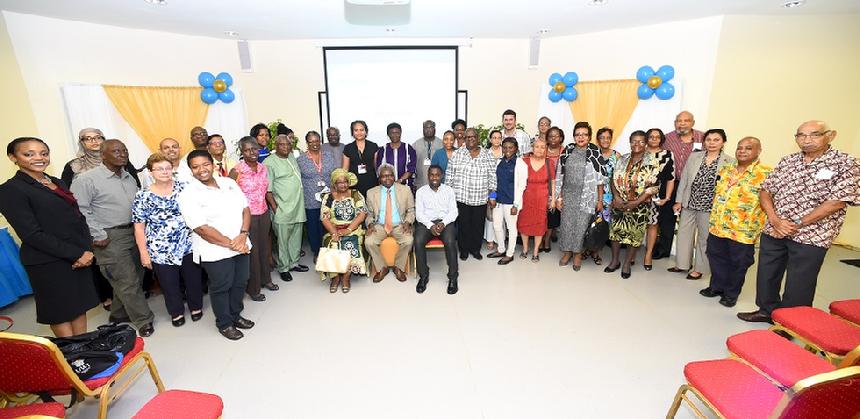 Group photo of attendees at the retirement function for Prof. Adesiyun. Prof, his wife and son are seated at centre. Photo courtesy of Prof. Adesiyun.
Paraquat toxicity in dogs
Better known as Gramoxone, Paraquat is a commonly used and readily available herbicide in Jamaica. It is also one of, if not the most common poisonings that occur in dogs. Unless ingestion is detected and dealt with almost innediately, it is almost invariably lethal, often causing a slow and agonizing death.




Humans have used it to commit suicide and there is evidence that exposure may lead to Parkinson's Disease, yet it remains readily available in Jamaica's farm stores despite the fact that its use is heavily restricted or banned in much of the developed world. It's popularity as a herbicide stems from its effectiveness in that role, low cost and its quick decomposition when it interacts with soil.




Paraquat's toxic effects occur in the kidneys, liver and, most prominently, in the lungs. Very high doses result in severe, acute kidney failure which can cause death within a few days. With lower doses, the predominant sign in dogs is deep and laboured breathing, groaning, cyanosis (gums turn purple due to lack of oxygen in the blood) and gradual suffocation. The chemical induces a free radical reaction in the lungs causing destruction of the lung tissue and, if the animal survives the initial insult, scarring of the lungs (fibrosis) restricting their ability to expand.

Even a small dose can set off the reaction, which self-propagates, leading ultimately to death.

The very oxygen in the air that is necessary for life becomes part of the free radical reaction.




Treatment is generally unrewarding, unless started extremely early. Early treatment is unlikely as many dog owners only notice there is a problem is when the animal begins laboured breathing - at that point it is generally too late. It involves using anti-oxidants to control the free radical reaction, duiretics to flush the chemical from the system, and adsorbents to reduce absorption from the intestinal tract, along with other supportive measures.




There is a test available to confirm a diagnosis of paraquat poisoning.




To prevent exposure, do not use Gramoxone/Paraquat on your premises if you have pets, Do not allow dogs to roam outside of your premises. If you are capable of or have access to advanced dog training techniques, train your dogs not to eat anything other than the food you provide for them.




For more information on Paraquat see the following:




Click

HERE

for Prof. Cecil Brownie's infosheet on pesticides and herbicides. Scroll to Page 54-56 for Paraquat.




Click

HERE

for a detailed DVM-360 Article "Toxicology Brief: Helping animals exposed to the herbicide Paraquat".





















NEW!




CARIBBEAN WATCH




Caribbean One Health Newsletter




Click the issue below















ZIKA VIRUS - Not a threat to Domestic Animals
The one absolutely unselfish friend that man can have in this selfish world, the one that never deserts him, the one that never proves ungrateful or treacherous is his dog.
A man's dog stands by him in prosperity and in poverty, in health and in sickness. He will sleep on the cold ground, where the wintry winds blow and the snow drives fiercely, if only he may be near to his master's side.
He will kiss the hand that has no food to offer, he will lick the wounds and sores that come in encounter with the roughness of the world . He guards the sleep of his pauper master as if he was a prince.
When all other friends desert, he remains.
When riches take wings and reputation falls to pieces, he is as constant in his love as the sun in its journey thru the heavens.
Writer's Credit:
Unless otherwise stated
, all articles on this page are written by Dr. Paul Cadogan.
For More News, click on "News & Events" in the Menu at the top

We want this web site to be one that will make all Jamaican veterinarians proud. It's still a work in progress. If you have any advice or you want to assist us in any way please email the Secretary of the Association. Click here to send us your advice and/or comments.

Website powered by Network Solutions®